Mobile Bridge Configurator Guide & FAQ
The Eagle Eye Mobile Bridge Configurator aims to facilitate the configuration of a bridge without the need for a keyboard or monitor. Using this application you can configure bridges, run network diagnostics, and set IP addresses using only a USB cable and a mobile phone.
Do I need to download a new application to use the Mobile Bridge Configurator?
No, you only need to have the Eagle Eye Viewer app (Android or iOS).
Which App version do I need to download in order to use the Eagle Eye Mobile Bridge Configurator?
The latest version in the Apple store and Play store supports the Mobile Bridge Configurator. Available from version 7.8.8
How does it work?
Log in to any EEN account (not a demo account)

Plug your phone into the bridge with an USB cable.

Depending on the device and OS you are using, you might need to ''Trust this computer'' for iOS, and enable all for Android

The Eagle Eye Mobile Bridge Configurator should pop up.

Log-in to the bridge (username Admin, password *same as usb keyboard/monitor access*)

Configure bridge

Log Out

What does it look like?

Configuration Menu (WAN/CamLAN)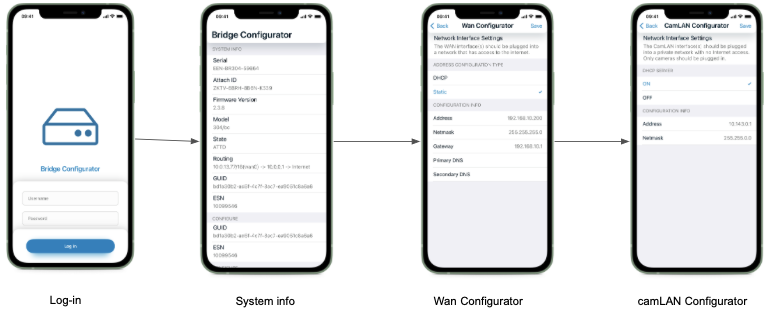 Network Diagnostic/Sharing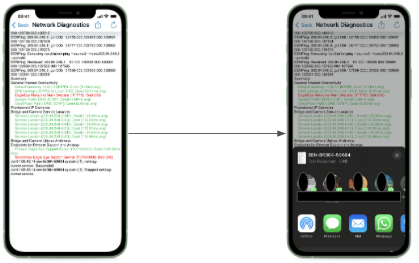 I connected my phone to the bridge, but the Mobile Bridge Configurator doesn't pop up. What should I do?
Make sure you haven't logged in into a demo account

Try to unplugged your phone and plug it in again

Plug the USB cable into the phone after you have logged to the EEN account

Ensure the USB cable is firmly connected into your phone device, some devices (mainly Android) doesn't communicate properly

For Android user: be sure that USB debugging is enable (see next question for more information about it)

Restart your phone and repeat - should work most of the time

Reboot bridge

Call support.
How do I enable USB debugging mode on my Android device?
Go to your device settings

''About phone''

Software Information

Click number of times on ''Build number'' or ''MIUI number'' until you see the message "Developer mode has been enabled''

Go back to the device settings, scroll down until you see ''Developer options''

Enable USB debugging

Related Articles

Offline Bridge Troubleshooting Guide

Behind a firewall? Before continuing please check here and ensure it's configured for our device. You will need to contact Eagle Eye Networks support for your bridge or CMVR username and password. This article is meant for technician or installers. ...

Bridge Configurator Menu Guide

Bridge Configurator Menu Guide The Bridge Configurator Menu is available on CMVRs This guide describes what options exist in the Bridge Configurator Menu in order to connect to a bridge. For detailed instructions for troubleshooting offline bridges, ...

Adjusting Network settings on an Eagle Eye Bridge/CMVR -- Setting a Static IP

Adjusting Network Settings on Eagle Eye Networks Bridge/CMVR Devices By default, all of our devices are set up for DHCP on the WAN and the CamLAN. In order to reconfigure these settings we recommend you connect a keyboard and monitor. The steps below ...

Connecting to a Bridge/CMVR

Connecting to a Bridge/CMVR There are 3 ways to connect directly to the bridge/CMVR: Note: if a bridge fails to reach the login screen a HMDI monitor and USB keyboard will be required. A usb keyboard and a monitor with an hdmi cable A usb cable and ...

Performing a Bridge Swap

Bridge Swap A Bridge Swap will replace an offline bridge with a new online bridge. The attached cameras will transfer to the new bridge on the dashboard. Please ensure the new bridge is set up on-site exactly like the original bridge. IMPORTANT!! ...