Hikvision ONVIF Authorization Troubleshooting
Hikvision Authorization Issues

Before performing the following troubleshooting steps, please ensure that the camera's firmware has been updated to the latest version provided by Hikvision at https://www.hikvision.com/en/support/download/firmware/. This issue is also known to affect Hikvision DVRs.
After the firmware has been updated to the latest version, soft factory reset the camera (this will remove the old ONVIF user from the camera, as well as any other custom configurations while maintaining network settings. See image below.)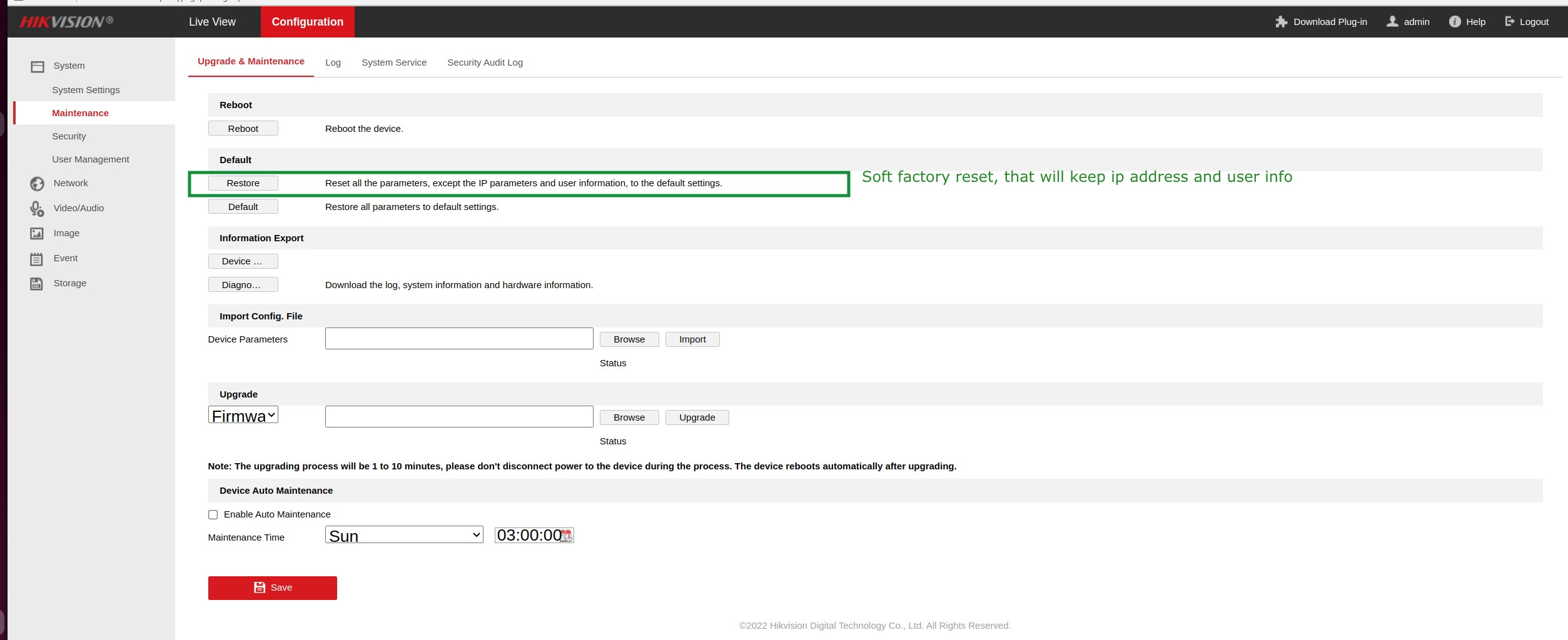 2. Navigate to 'N
etwork'
→ 'A
dvanced Settings'
→ 'I
ntegration Protocol'.
Here, we can 'A
dd'
a new ONVIF user with the exact same 'admin' username and the password.
3. Set
'User Privilege'
to 'Administrator'. Select
'Digest & WSE User Token'
from the ONVIF dropdown menu and click
'Save'.
4.
Sync the camera's clock to your computer's time. Guide for how to do this can be found at
b.
If the above steps do not resolve the issue, please reach out to EEN Support.

If you have any questions or concerns, please contact us.
EU: 31 (0) 20 26 10 460

Related Articles

Hikvision Configuration Guide

This guide illustrates how to configure Hikvision cameras for integration with the Eagle Eye Security Camera System. It may be required to use Windows with Microsoft's Edge browser in Internet Explorer mode or to use Mac OS X with Safari to complete ...

Hikvision DVR/Encoder Configuration Guide

Requirements: A Laptop computer that you are able to set the IP address on An Ethernet cable A supported Hikvision Encoder/DVR Custom firmware provided by Eagle Eye Networks Internet Explorer Check here to check if your Hikvision DVR/Encoder is ...

Analog Camera/Encoder FAQ & Troubleshooting Guide

An analog/HD analog to digital encoder allows analog cameras to interface with an EEN Bridge/CMVR over a standard RJ45 ethernet cable. When using analog cameras, the quality of the electricity on site is paramount. If the need to troubleshoot cameras ...

How to Add the ONVIF Camera Password to the Password Locker

Some third-party IP cameras require a separate set of credentials to be created for ONVIF validation. You can set the user name and password to anything of your choosing, so long as it adheres to the camera's password complexity requirements. For ...

Axis Camera Configuration Guide

Axis Camera Configuration Guide Most Axis camera's default settings are compatible with our system. The main functionality that needs to be set up for the camera to stream is ONVIF. Please follow these steps to enable the functionality. 1. Login to ...