Eagle Eye Networks Offline Bridge Troubleshooting Guide
Eagle Eye Networks Offline Bridge Troubleshooting Guide
A guide to troubleshoot an offline Eagle Eye Bridge/CMVR.
Eagle Eye Networks is number one worldwide in delivering true cloud video
surveillance and artificial intelligence to make businesses more efficient and the
world a safer place – all on the only video management platform robust and
flexible enough to power the future of video surveillance.

This troubleshooting guide is for reference only.
All designs / procedures shown are subject to change without prior written notice.
All trademarks and registered trademarks mentioned are the properties of their respective owners.
Please visit our website
www.een.com
for further information
Device operability is subject to network capabilities of the install location.

Handle the device with care. Do not apply shock or drop the device. Failure to adhere may cause the device to malfunction.

This device is designed to be used indoors.

Do not directly disconnect the device from the power when running. Power down by pressing the power button on the front of the device.

Do not use the device in hot or humid environments for an extended period of time. Failure to adhere causes component degradation and shortened life span of the device.

Do not expose the device to a direct heat source.



Requirements: HDMI Monitor and USB Keyboard
Eagle Eye Networks Technical Support requires that technicians have an HDMI Monitor and USB Keyboard for all offline Eagle Eye Bridge/CMVR troubleshooting. A monitor and keyboard provide direct access to the unit where a technician can perform Network Diagnostics, set internal network configuration settings, see error messages, or recover the device with help from Eagle Eye Networks Technical Support.
First Steps: Verify
Ethernet Cables

Power Status

Network Connectivity

Please verify the network connectivity to the Eagle Eye Bridge/CMVR.

Have network settings changed? Please ensure that the network's firewall settings are configured according to Eagle Eye's Firewall Configuration Guidelines.

PuTTY Troubleshooting

If a monitor and keyboard is not available you can utilize the third party program, Putty.
Download PuTTY.
Ensure your laptop's network interface is set to DHCP (Guide).
Connect your laptop directly to the CamLAN port of the bridge/CMVR.
Run PuTTY.
Enter 10.143.0.1 into the Hostname field.
Enter 22 into the Port Number field for V2(plat 1) and port 33022 for V3 (plat2)
Select the SSH connection type and press "Open".
You may receive a PuTTY Security Alert, select No.
When prompted login using admin and the password, which is the last five digits of the bridge serial number (EEN-BR304-12345). The password will not appear as it's being entered.
Press enter after you have entered the password.
You have a tunnel? Run network diagnostics.
If the Eagle Eye Bridge/CMVR is still offline after verifying Ethernet Cables, Power Status, and Network connectivity, please attempt the following:
Power-Cycle the Eagle Eye Bridge/CMVR
1. Power off the Eagle Eye BridgeCMVR by pressing the power button.

With certain models, the power button will need to be held down until the unit powers down.



2. Unplug the power adapter.

Only use this option if the power button does not cycle the device.

3. Reconnect the power adapter and boot the Eagle Eye bridge.

Wait 5 minutes to check if the Eagle Eye Bridge/CMVR comes online. If not, please continue.



Run Network Diagnostics



4. Log into the Eagle Eye internal menu. With

username "admin" and password "last 5 of serial number"

.
5. Using the arrow keys navigate to Network Diagnostic Info or Run Network Diagnostics.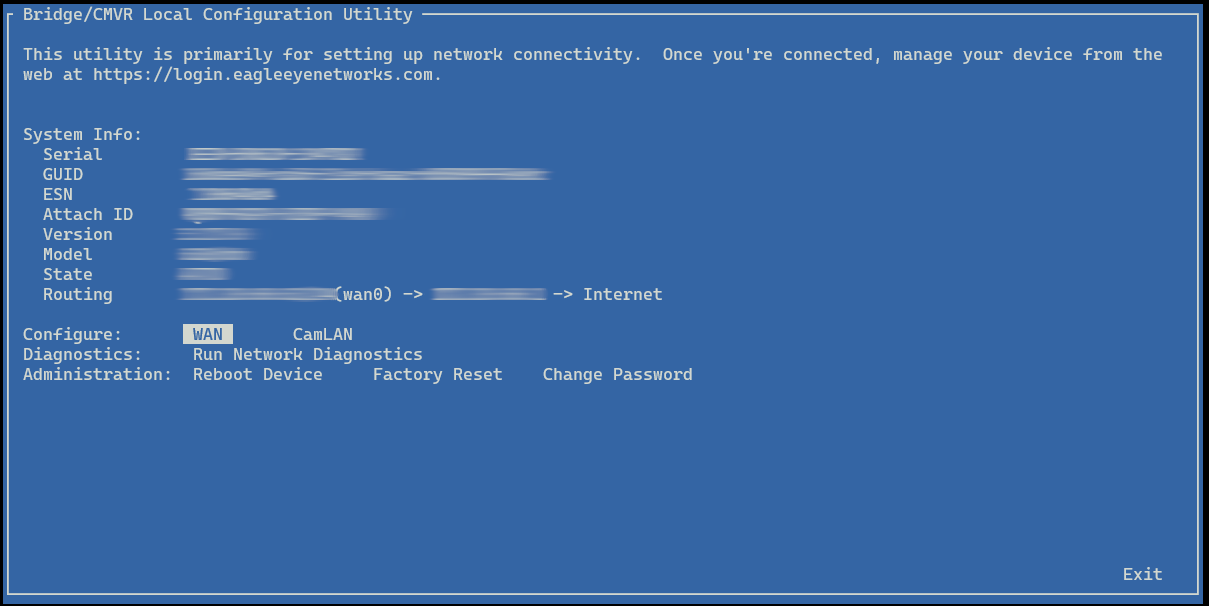 6. If Network Diagnostic fails, check the local network's firewall configuration, internet connectivity, and physical connections.
If Network Diagnostic passes and the Eagle Eye bridge remains offline please contact Eagle Eye Networks Technical Support.



When contacting Eagle Eye Technical Support, it is important to include as much information about the issue as possible.
Please Include:
Your Eagle Eye user email and Support PIN (located in "My profile" on the Eagle Eye VMS Dashboard").

Serial Number or Eagle Eye Bridge/CMVR (ex. EEN-BR304-00001)

Attach any pictures of error messages.

Please include troubleshooting steps, any environmental details that may be pertinent, or any other details that may help diagnose the issue.

For support please email: support@een.com
or give us a call at: 512-473-0501
US: +1-512-473-0501
EU: 31 (0) 20 26 10 460
ASIA PACIFIC: 81-3-686-5527
#1 In Cloud Media Video Surveillance Worldwide
Copyright Eagle Eye Networks. All rights reserved.
Related Articles

Bridge Swap Guide

Bridge Swap Guide The bridge swap process allows you to replace your offline bridge with a new unit without losing your camera recordings. When swapping a CMVR, please contact Support to ensure data is retained, if possible. The process consists of ...

Eagle Eye VMS Camera Direct Complete Setup and User Guide

Eagle Eye VMS Camera Direct Complete Setup and User Guide This guide describes how to add Camera Direct cameras to the Eagle Eye Cloud VMS. Introduction With Eagle Eye VMS Camera Direct, you can easily integrate your cameras with the Eagle Eye Cloud ...

Bridge Health Status

Bridge Health Status The red icons on the Dashboard and Settings pages indicate that your bridges or CMVRs have detected issues that warrant attention. These issues are detailed below, along with recommended actions to take. If you need more ...

Amcrest Camera Configuration Guide

Amcrest Camera Configuration Guide The guide provides detailed steps on the configuration of Amcrest cameras for use with an Eagle Eye bridge/CMVR. Step 1: VPN or log directly into the Amcrest camera. Click the button next to the camera in Available ...

Bridge Configurator Menu Guide

Bridge Configurator Menu Guide The Bridge Configurator Menu is available on CMVRs This guide describes what options exist in the Bridge Configurator Menu in order to connect to a bridge. For detailed instructions for troubleshooting offline bridges, ...