The Bridge Configurator Menu is available on CMVRs
This guide describes what options exist in the Bridge Configurator Menu in order to connect to a bridge. For detailed instructions for troubleshooting offline bridges, please follow the steps described in this guide:
https://support.een.com/portal/en/kb/articles/offline-bridge-troubleshooting-guide
1.1 System Info
This part of the Bridge Configurator Menu shows useful information about the bridge.
Serial - The serial number is unique to each Bridge; Support may ask for this

Attach ID - This is needed to add the Bridge to an account

Firmware Version - Version number of the firmware the Bridge/CMVR is running

Model - Bridge/CMVR model

State - This explains whether the Bridge is attached to an account

Routing - Provides a quick snapshot of the route the Bridge is using to connect to the EEN Cloud

ESN - An internal # associated with the Bridge/CMVR; Support may ask for this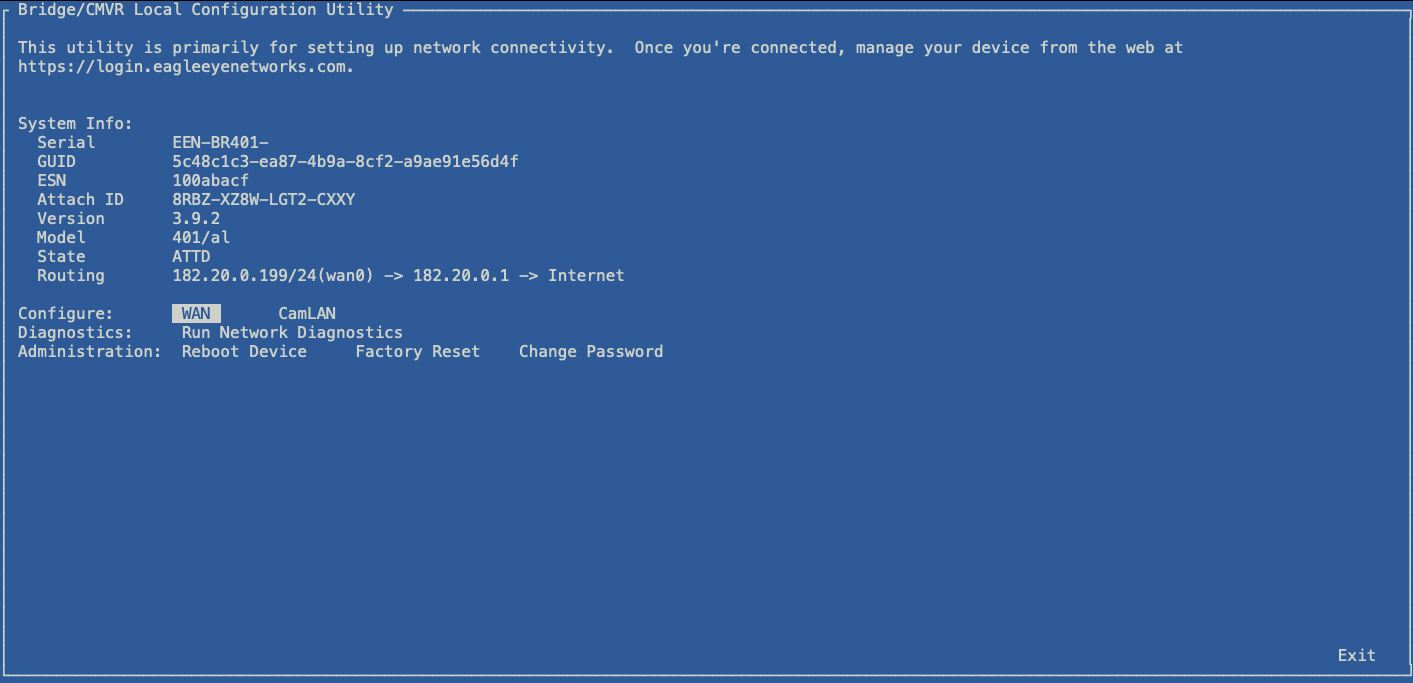 1.2 Configure WAN
This is where you change settings for the Bridge/CMVR's WAN. You can set the WAN port of the Bridge to Static or DHCP.
note: Make sure your router can accommodate these settings.
IE. If your router has its DHCP server turned off make sure to set the bridge to Static in the correct network range.
If needed, you can also set the Default Gateway and the Primary and Secondary DNS from this menu.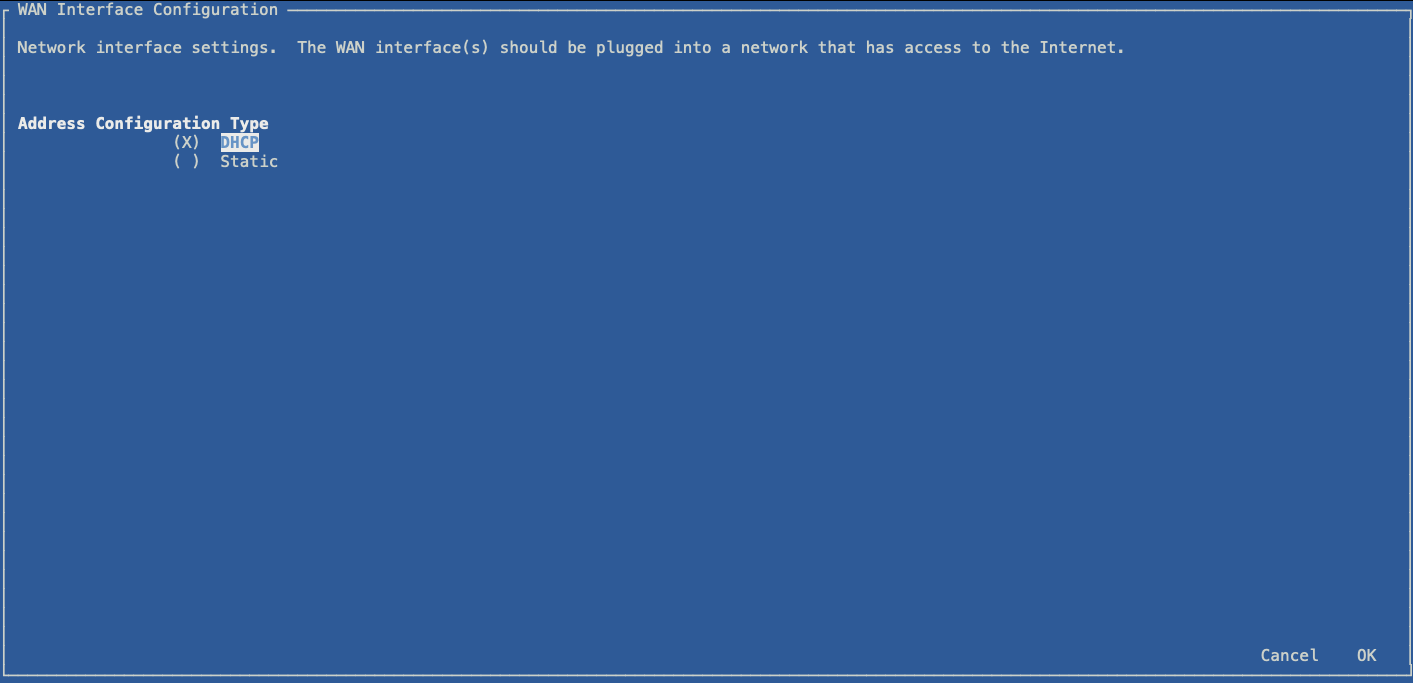 1.3 Configure CamLAN
Here you can change settings for the Bridge/CMVR's CamLAN. You can toggle the DHCP server on CamLAN port of the Bridge. You are able to choose the ip address on the CamLAN port and the Netmask of the CamLAN network if you disable the DHCP server.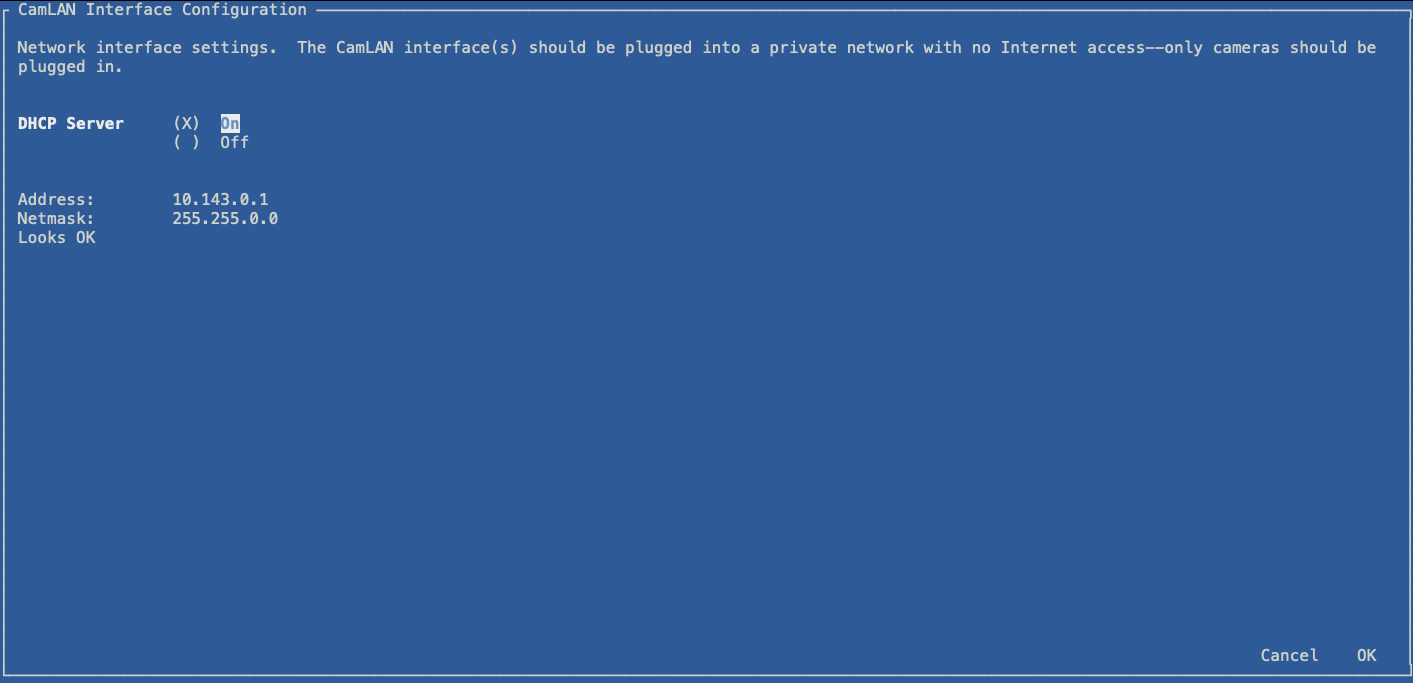 1.4 Running Network Diagnostic
In the configuration menu, navigate to Run Network Diagnostic.
Once the test has been completed, please verify the status of all connections as shown below: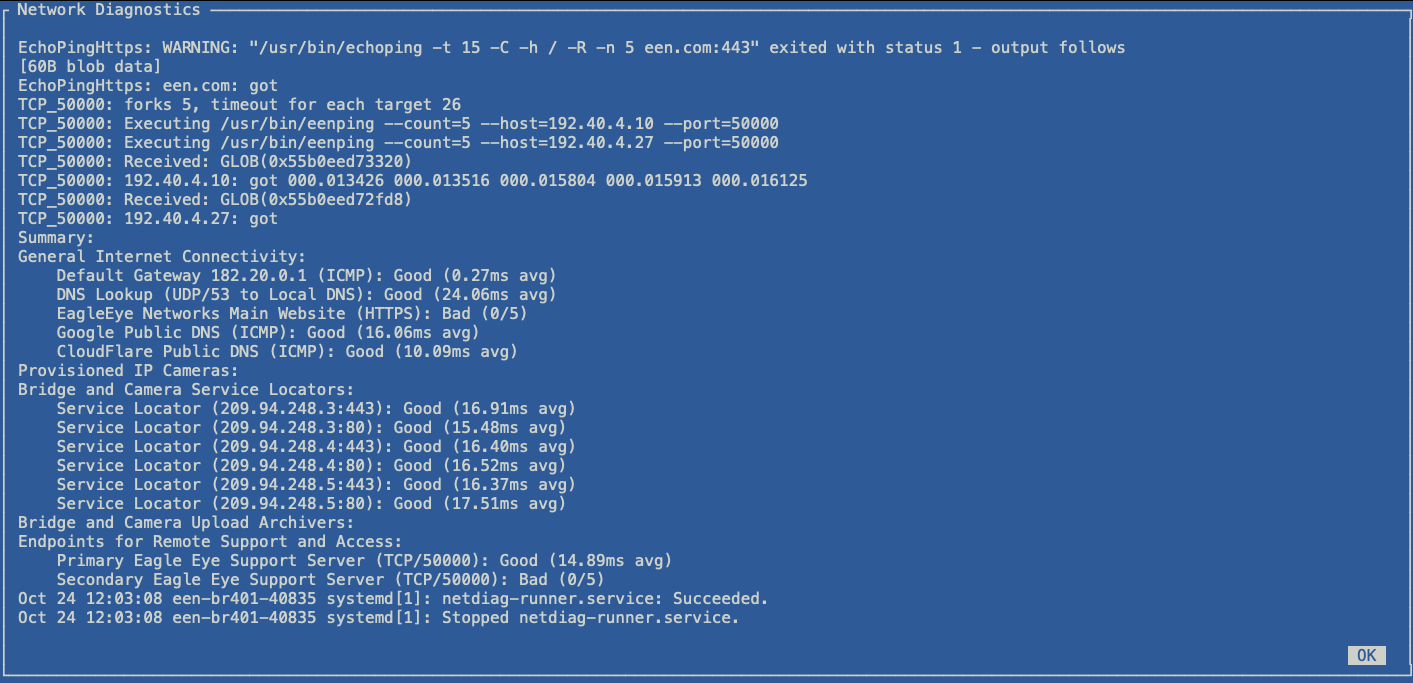 The following two tests may appear as Bad but will not impact performance or connectivity:
Eagle Eye Networks Main Website (HTTPS): Bad (0/5)

Secondary Eagle Eye Support Server (TCP/50000): Bad (0/5)
If any tests other than the ones listed above fail, please provide the customer with the KB link for Firewall Configuration which can be found here. If all tests pass, please refer to the reporting section at the end of this document.
Administration Options
Reboot Device
With this option you can force the bridge to do a hard restart.
Factory Reset
This option will fully reset the settings on the Bridge. Any CamLAN or WAN settings will be set back to default (DHCP and Dynamic respectively).
Change password
With this option you can change the password of the bridge, DO NOT LOSE THIS PASSWORD.



For support please email: support@een.com
or give us a call at: 512-473-0501
US: +1-512-473-0501
EU: 31 (0) 20 26 10 460
ASIA PACIFIC:
81-3-686-5527
#1 In Cloud Media Video Surveillance Worldwide
Copyright Eagle Eye Networks. All rights reserved.